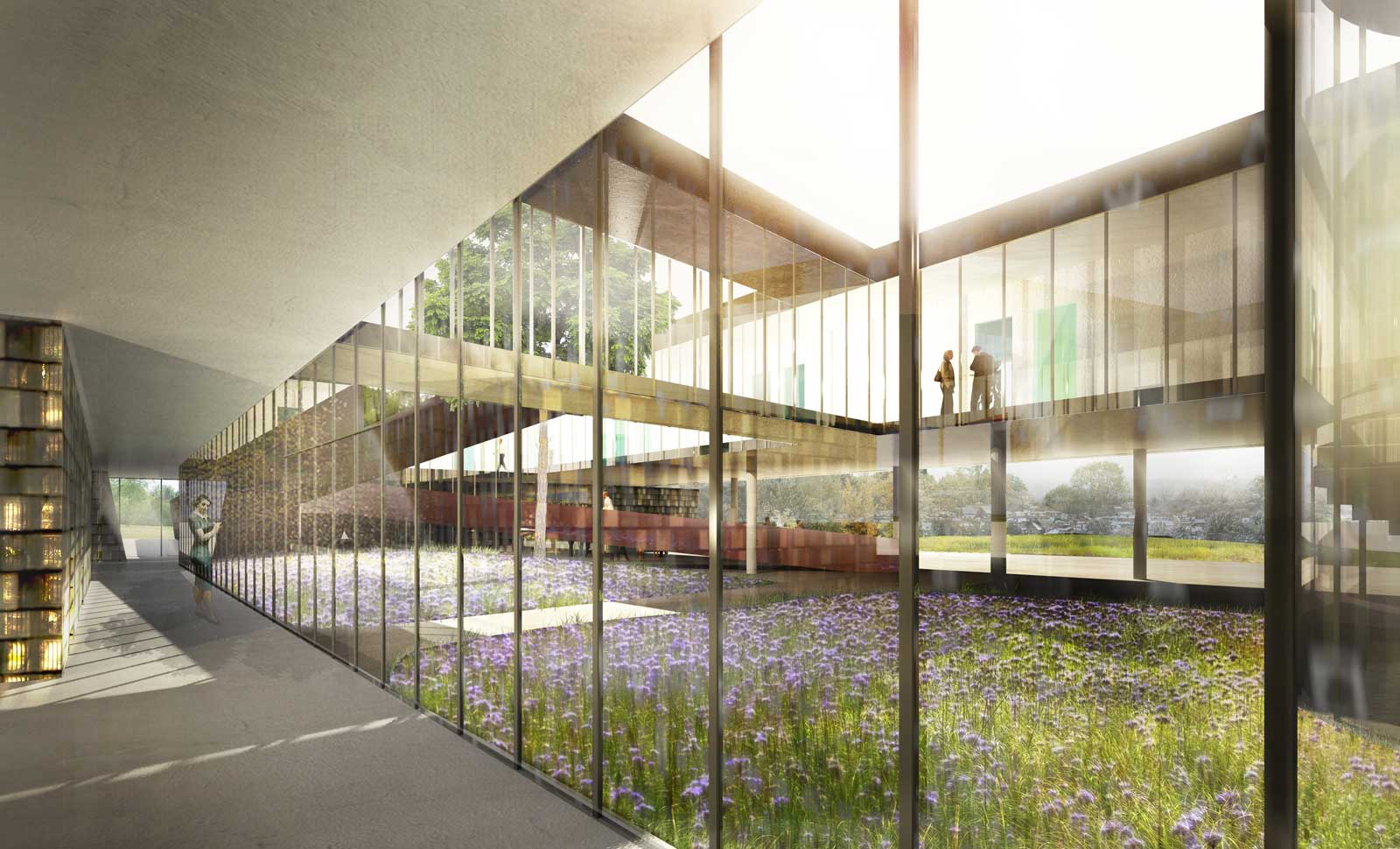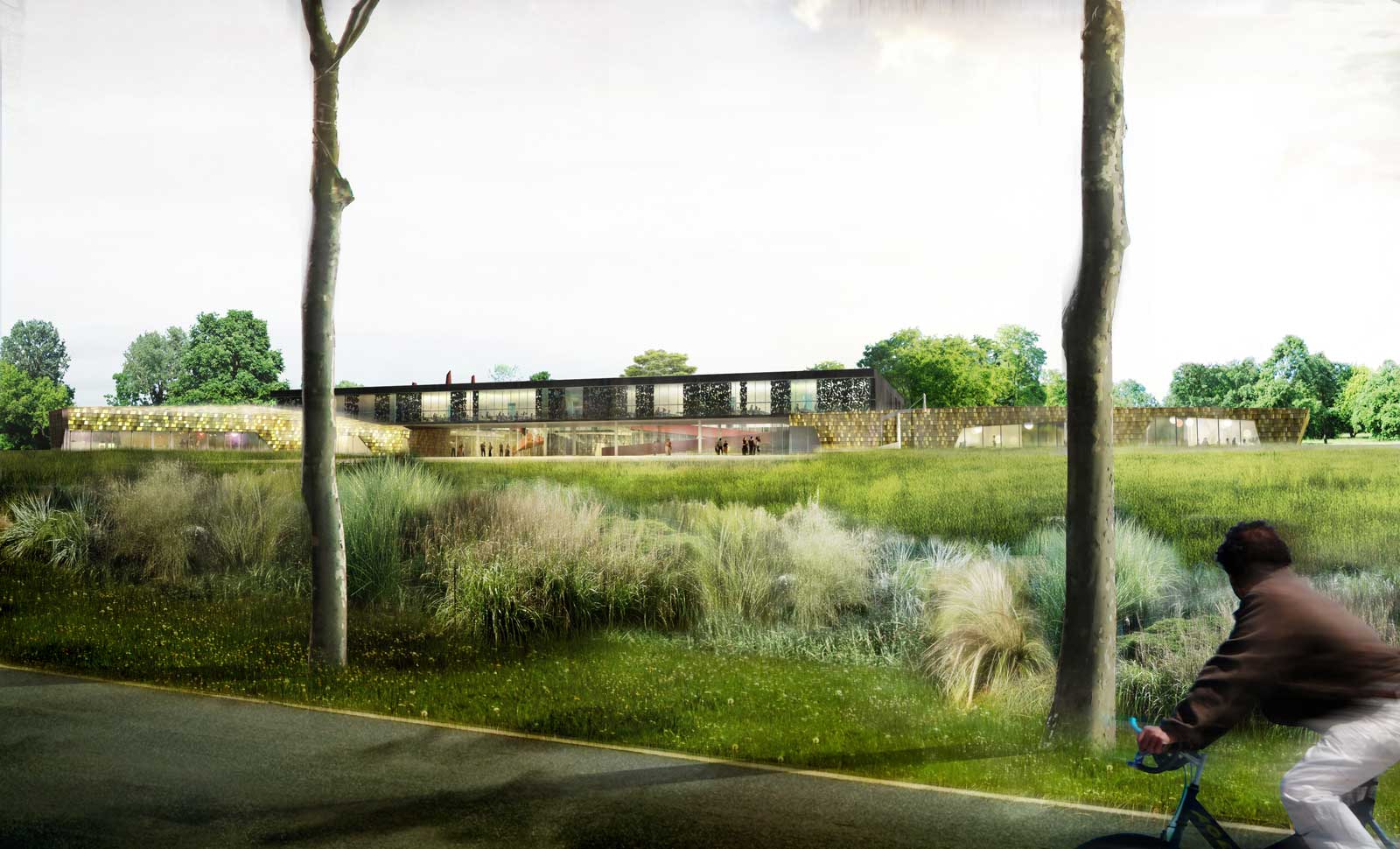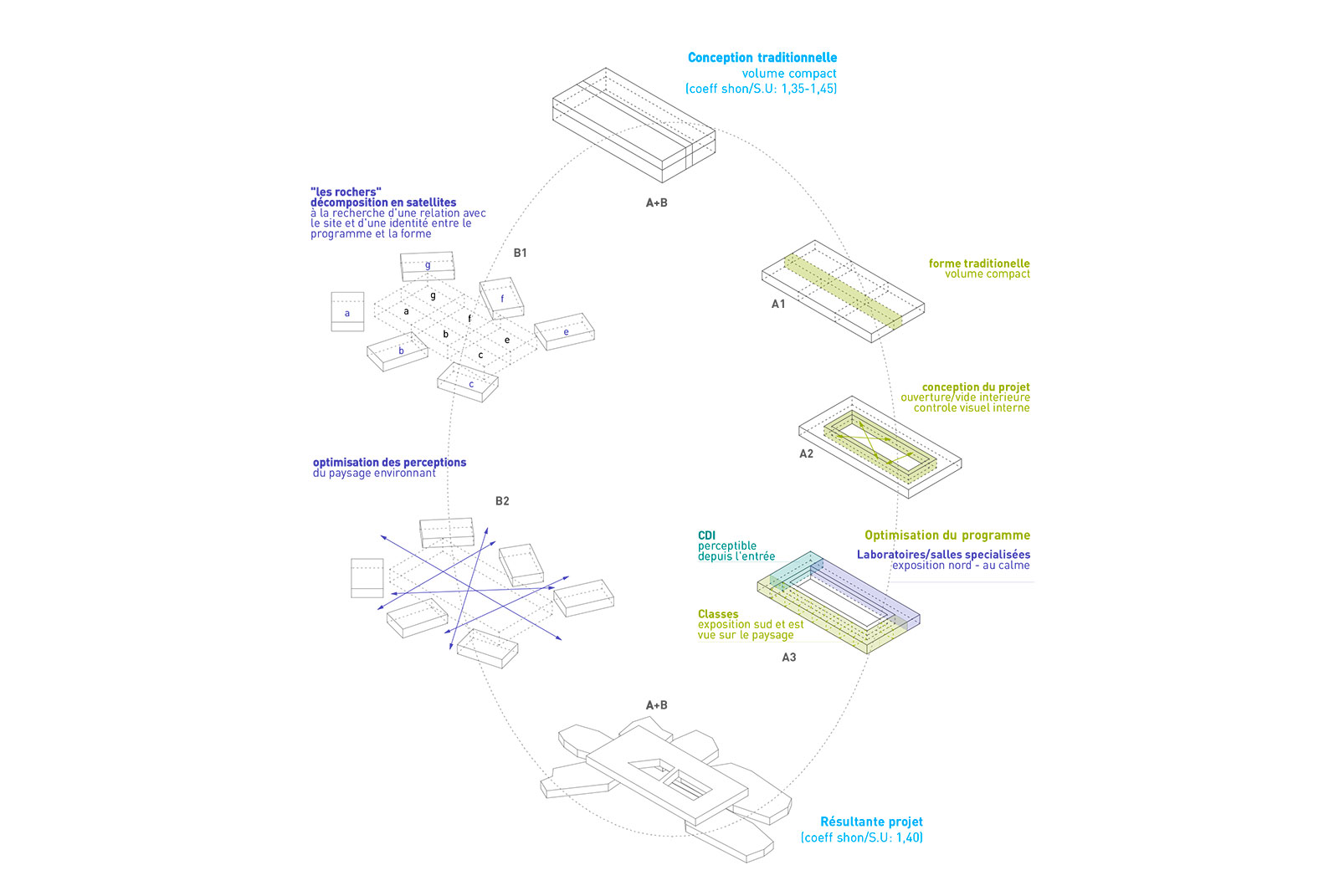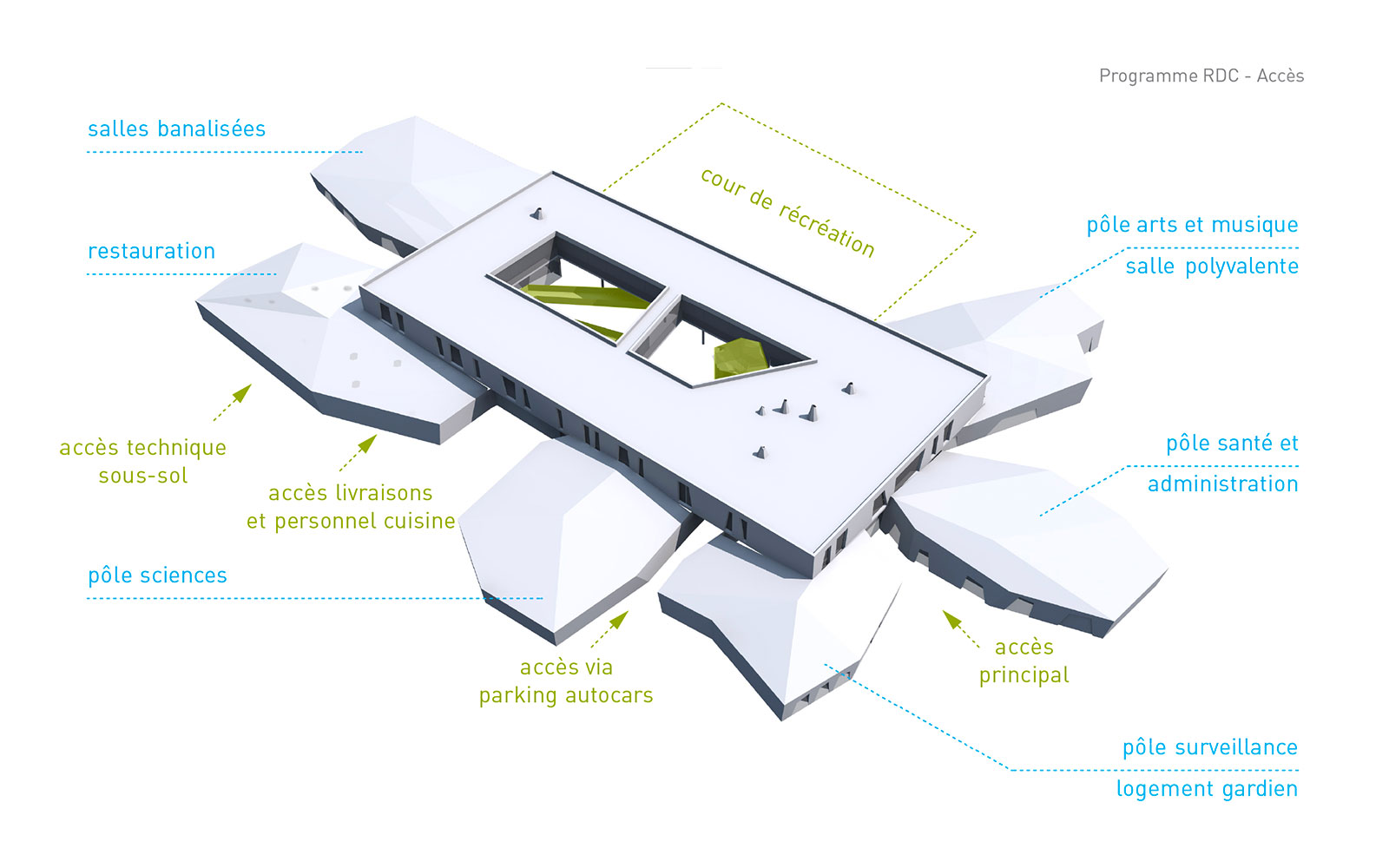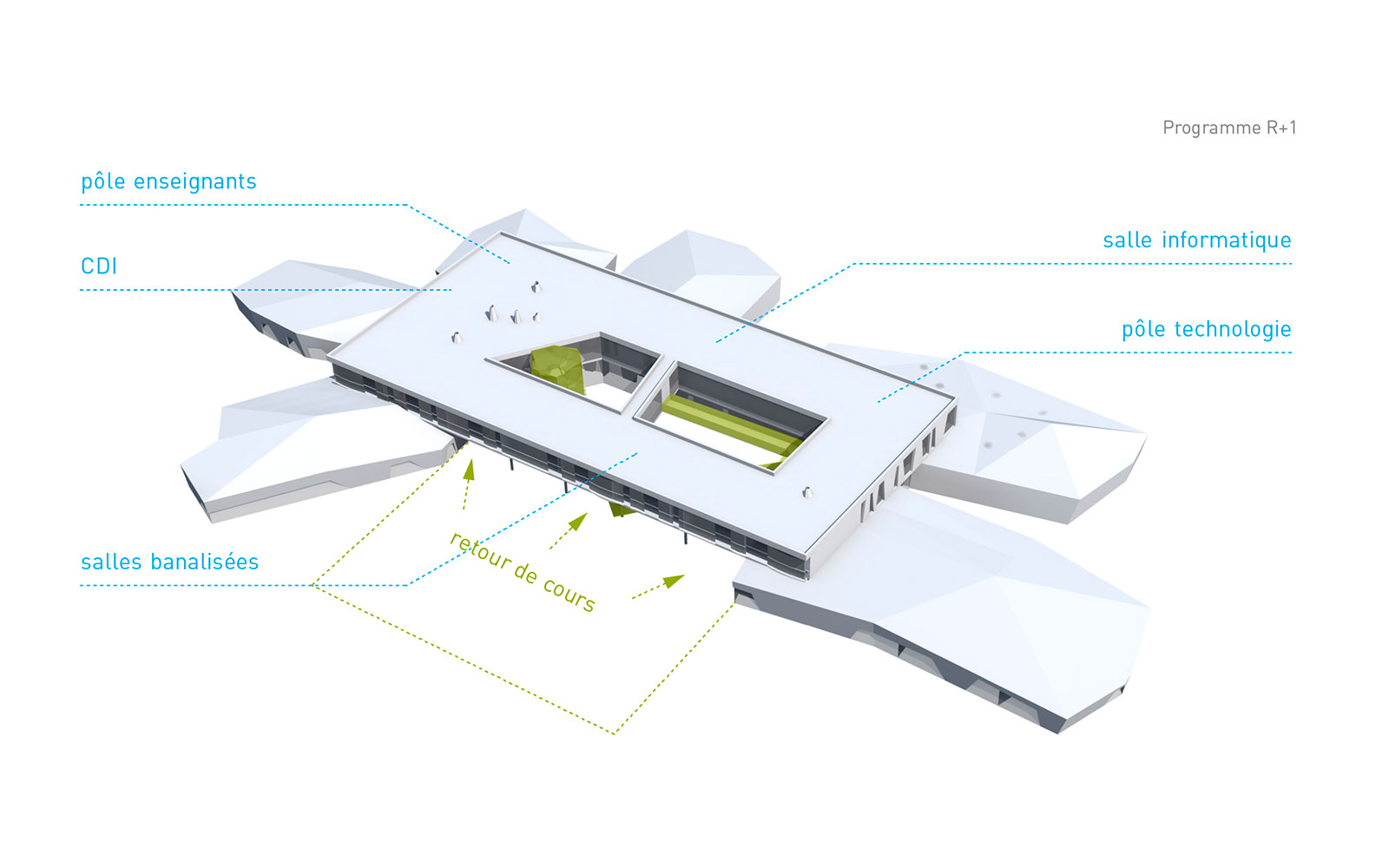 Reconstruction of the Marie Curie middle school
Bernay, France
2011

program: Middle school with 16 classes, catering service with kitchen for the preparation of meals, 5 function rooms and a sports center including a gym and a small sports hall with annexed rooms
> middle school: 4 384 m2 (SU)
> housing: 520 m2 (SU)
client: Département de l'Eure
project: Alfonso Femia * with
structural engineering: BEHN
services engineering, Environmental sustainability, fire safety: SOGETI INGÉNIERIE
economy control office: REBER
restauration engineering: COSY REST
images: ©Atelier(s) Alfonso Femia & Scriptogram
"The project, creator in nature, animates the street with a reflection on the origins being well anchored in the soil of the vast landscape." AF
A place belonging to nature and in constant dialogue with it.
The project, creator in nature, animates the street with a reflection on the origins being well anchored in the soil of the vast landscape.
It feeds on the city looking at it knowing that sooner or later it will swallow it, maybe …
Like a land art installation, the project does not overlap the context like the imprint of a known and stereotyped scheme, but instead seeks in nature the rules to follow and the language to use.
Nature is the real protagonist of the project. It squeezes the rocks on the ground floor, accompanies them, thus offering a pleasant point of view to the users at every point of the project. As in Richard Long's actions, the reflection shifts to the ancestral relationship of man with the natural environment.
The project questions this relationship, tries to reconcile these two worlds: nature and artifice. Each of these two worlds expresses itself with its integrity, the two become inseparable from each other.
The relationship between man and landscape is also affirmed as a primitive, intimate and creative action. Here we find dual wills:
– the influence of nature, first of all; leads to the search for an intimate relationship with the context;
– the need for functionality and rigor, on the other hand, ensure an effective building that is simple to use.
The slope, seen from the city from above, its perception, the sun exposure, the proximity to nearby plots … these elements are precious references for the orientation of the "rocks", massive and open blocks of the ground floor make up the project.
This form manifests its richness through the interior life it encloses. each building finds its identity. Better, they discover the identity of the context they enter. Certain functions can be thought of as "intermediaries", halfway between the path of artifice and nature. They are metamorphoses, they find a new relationship with the site.