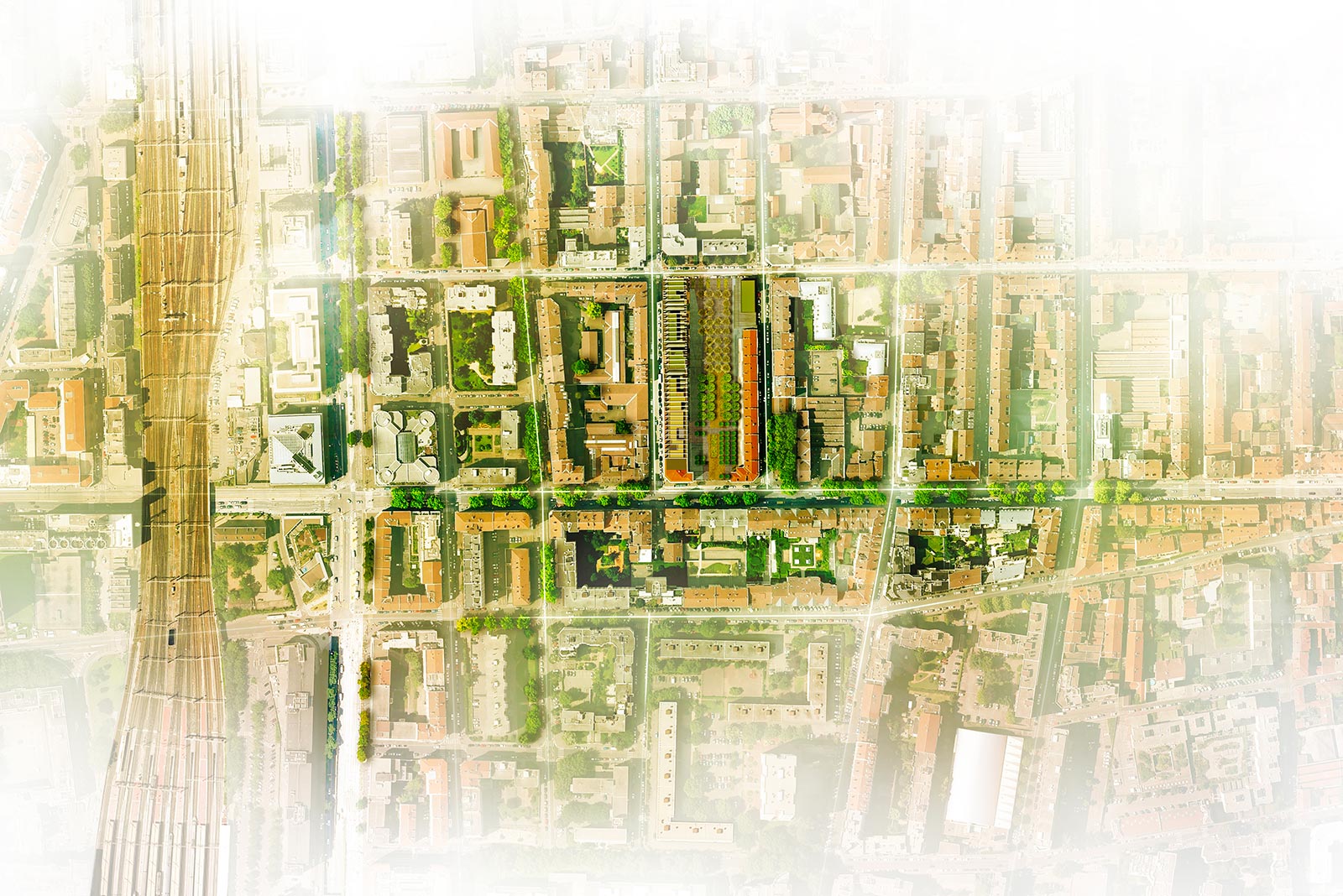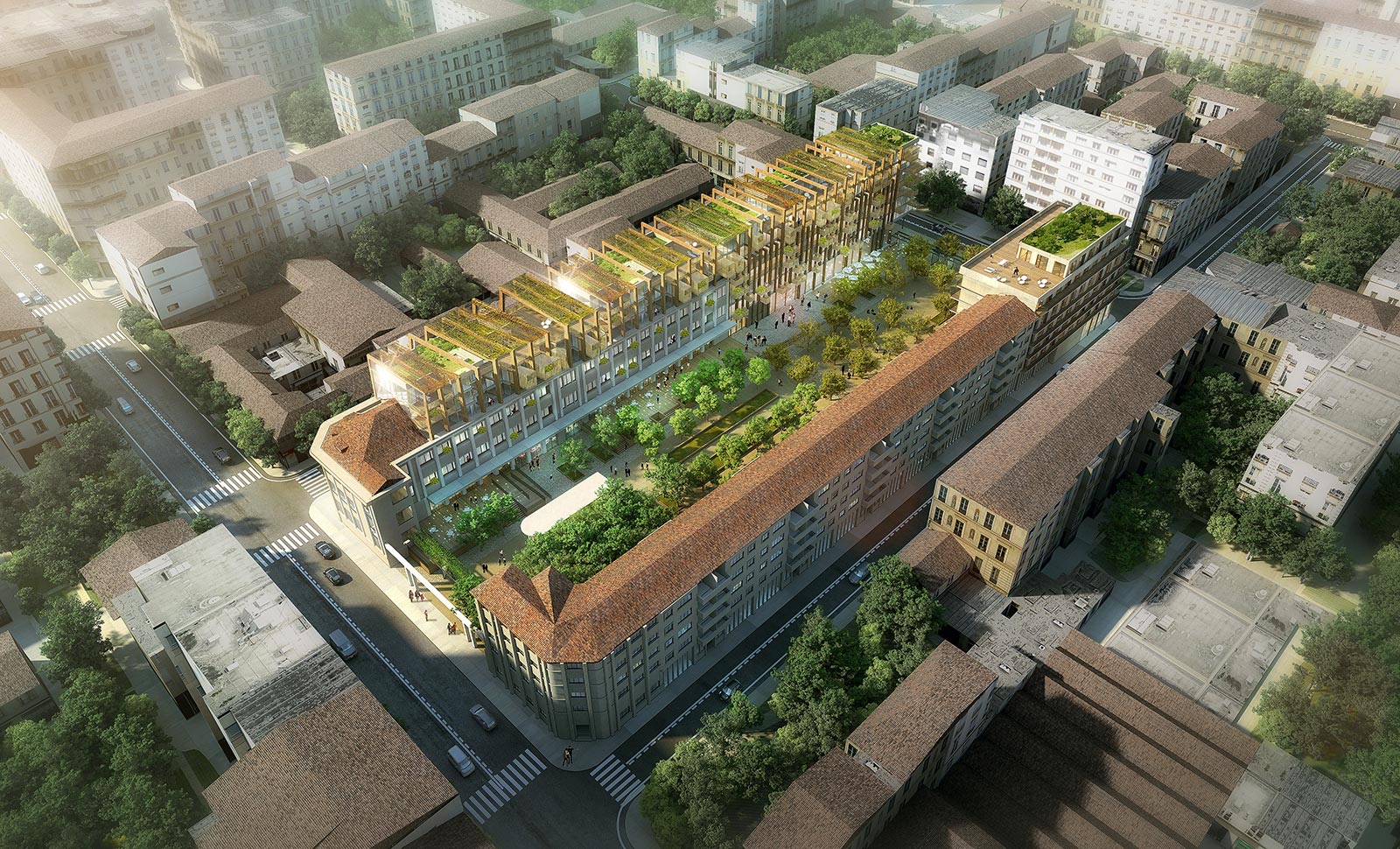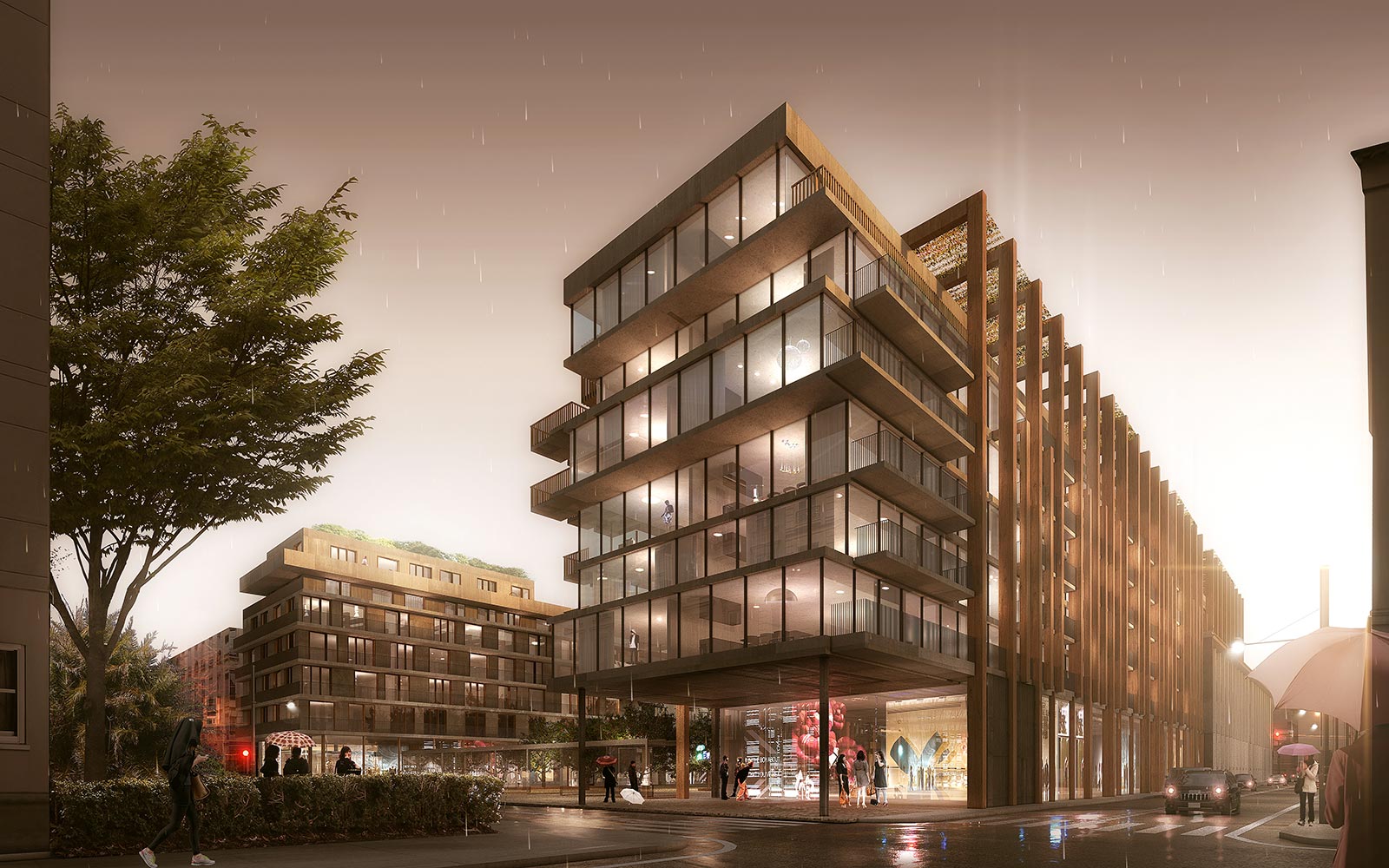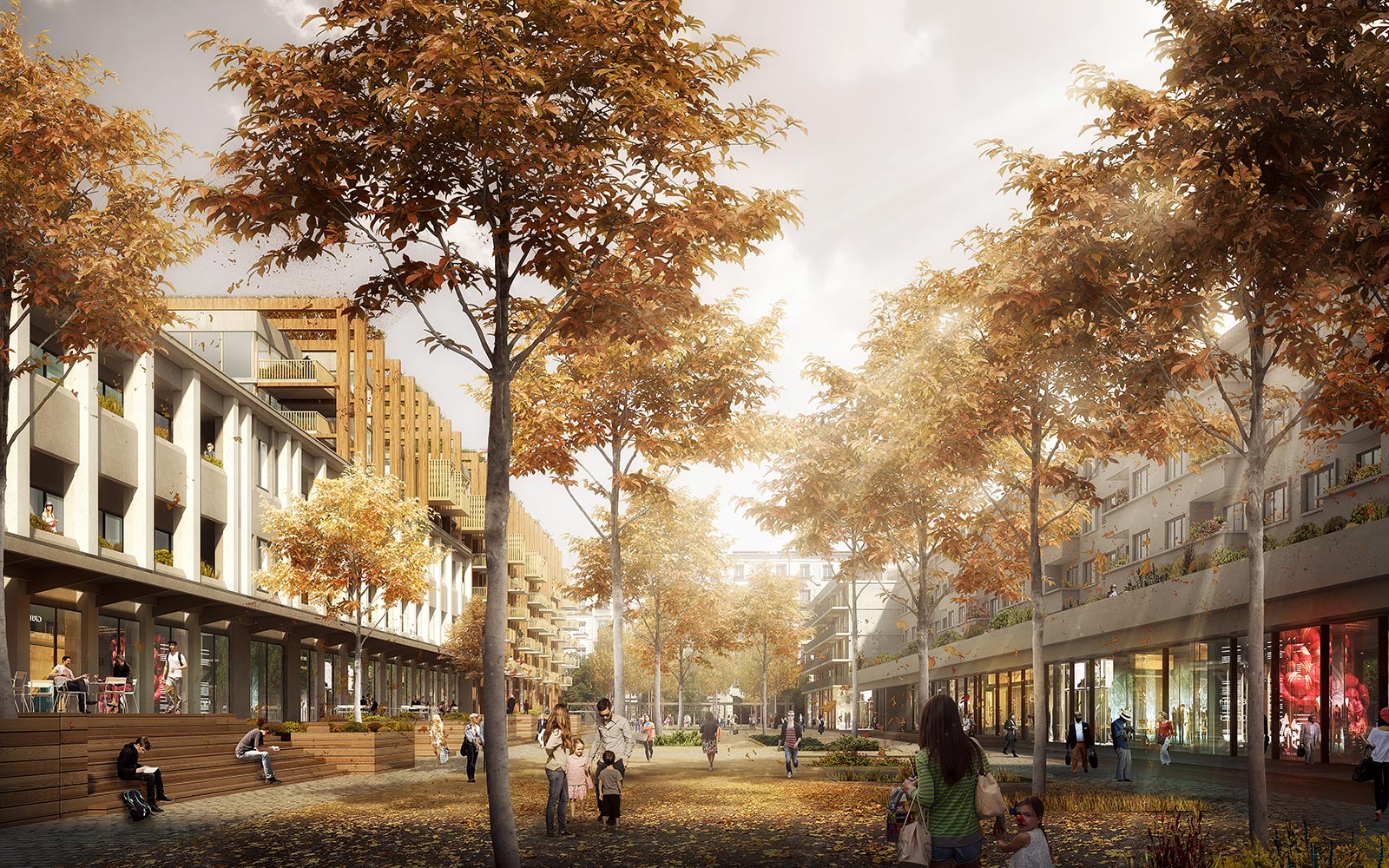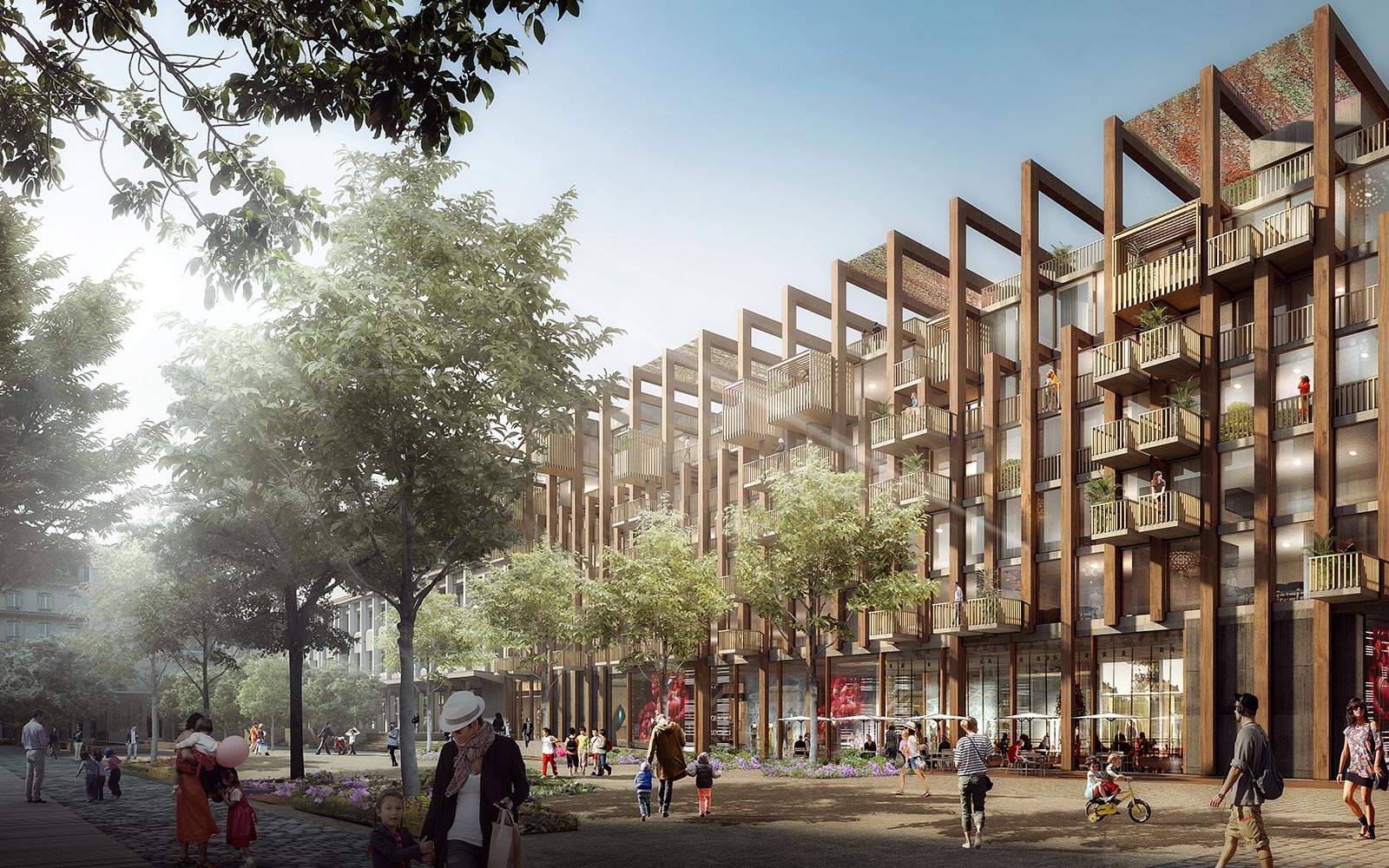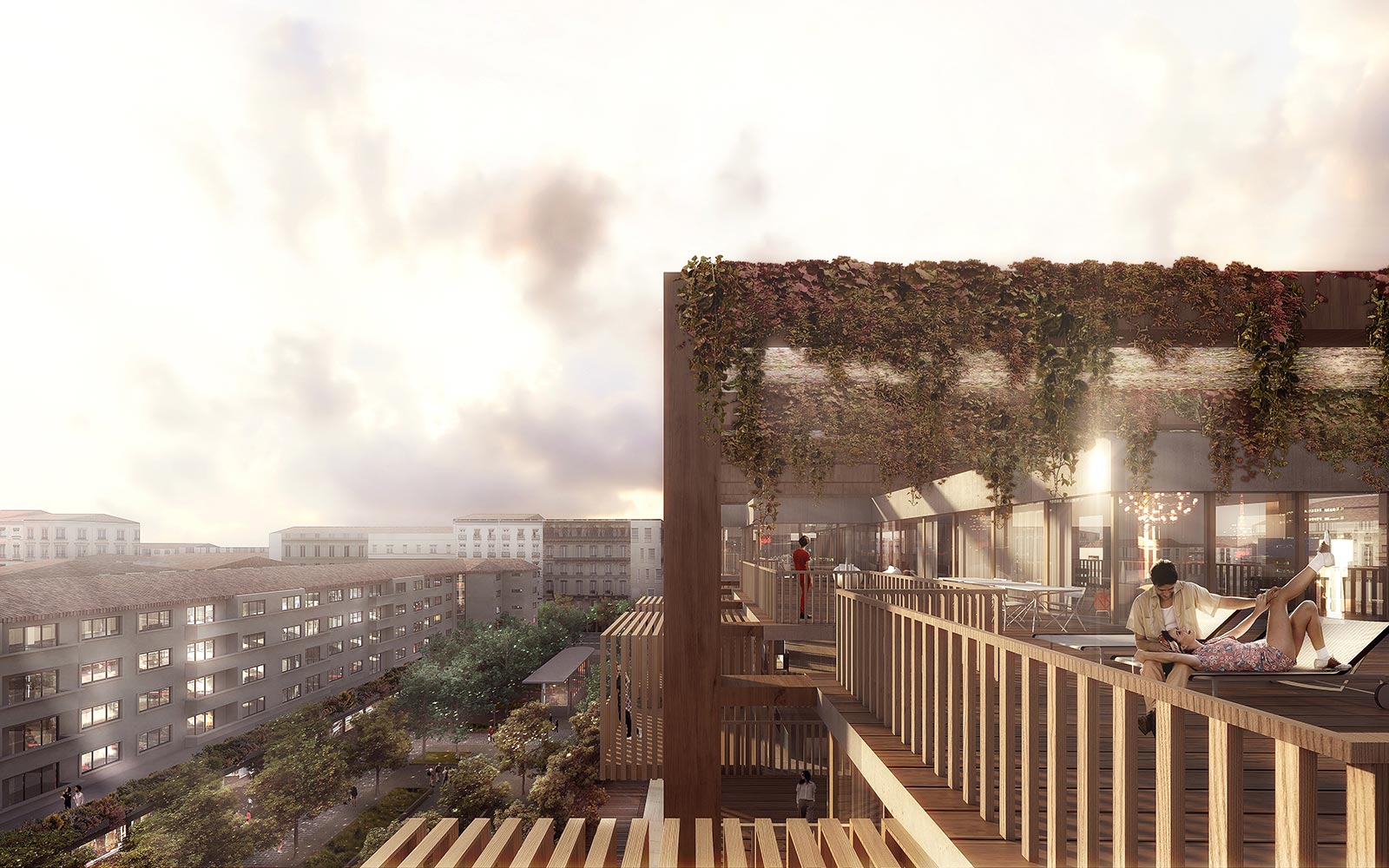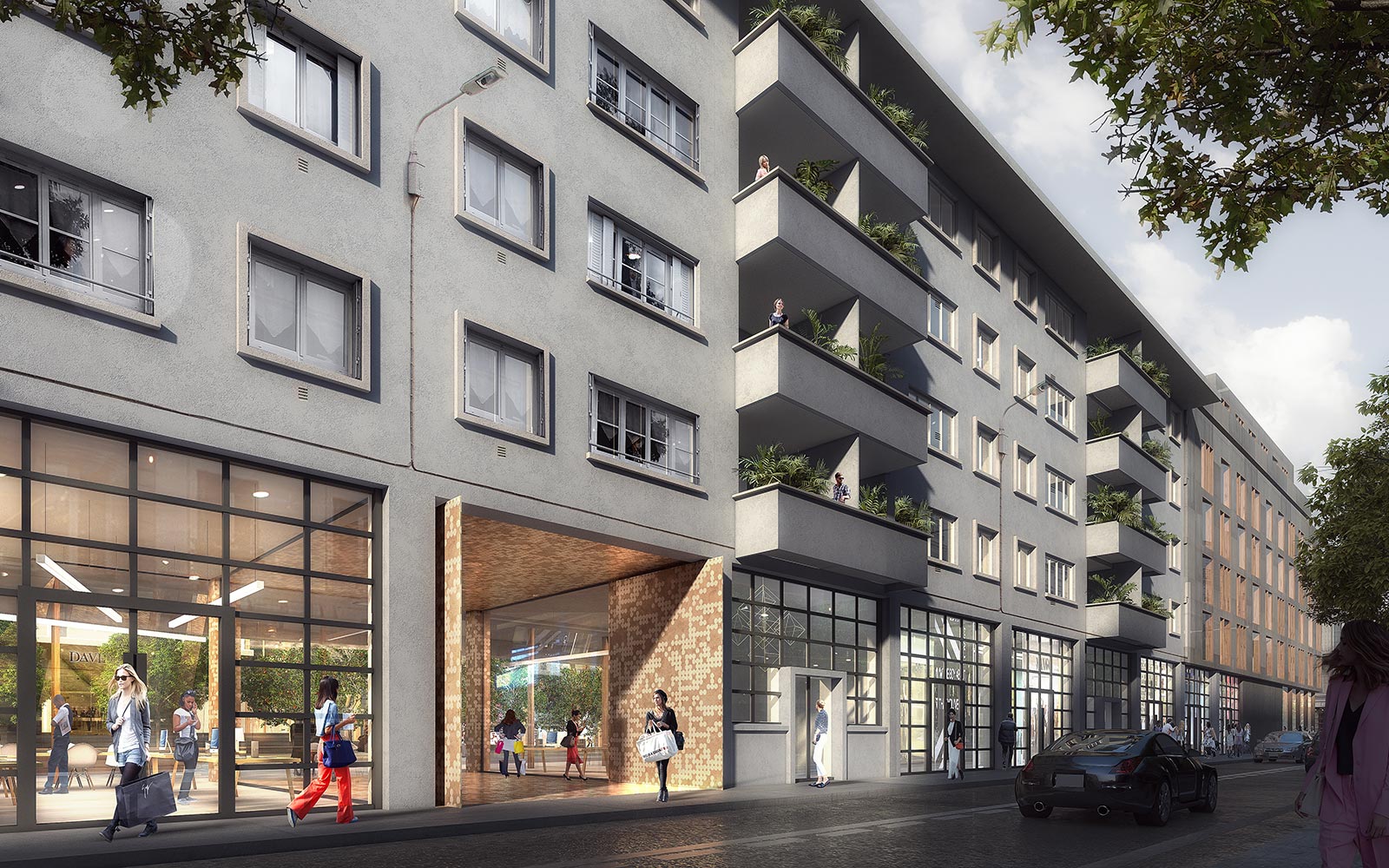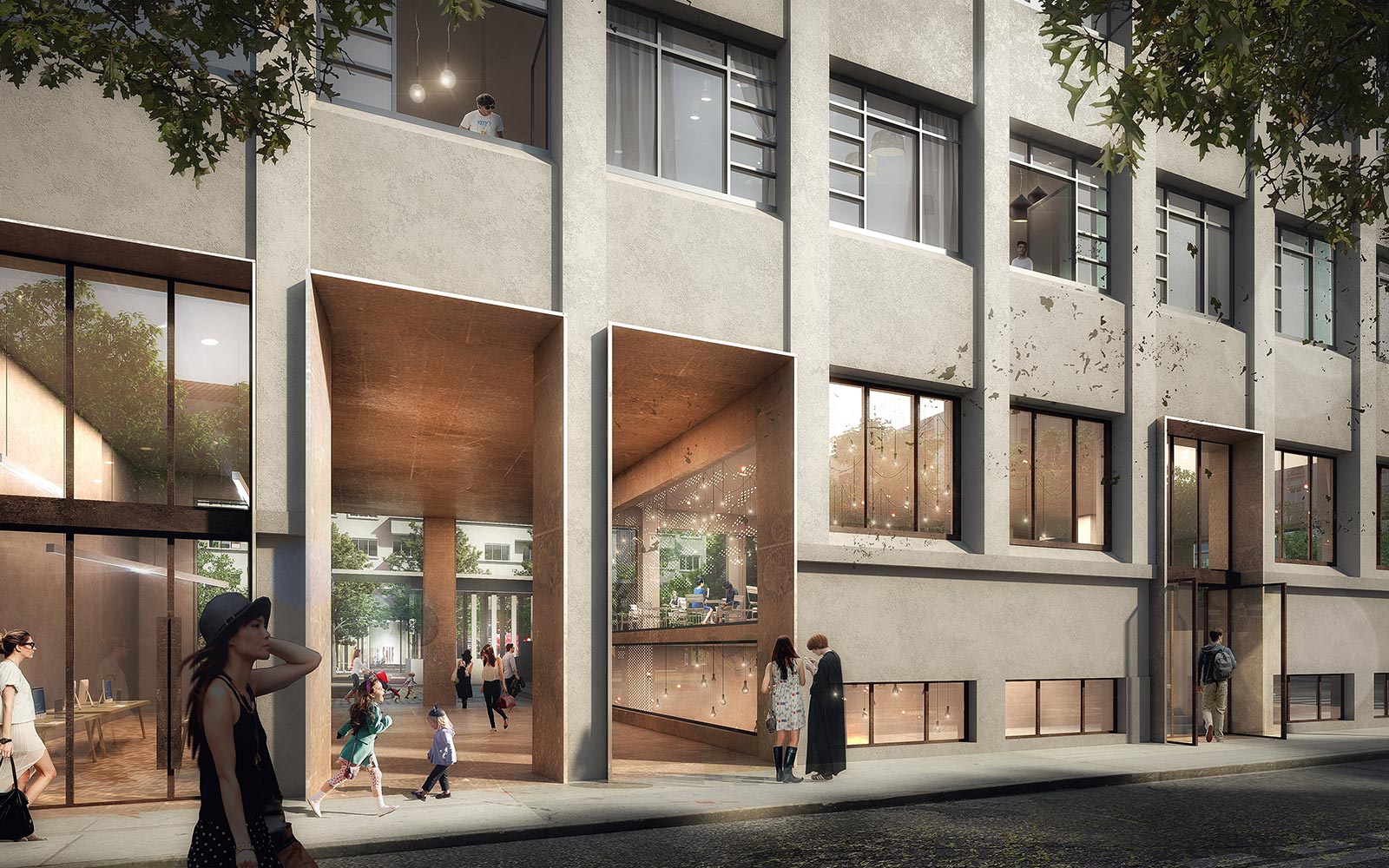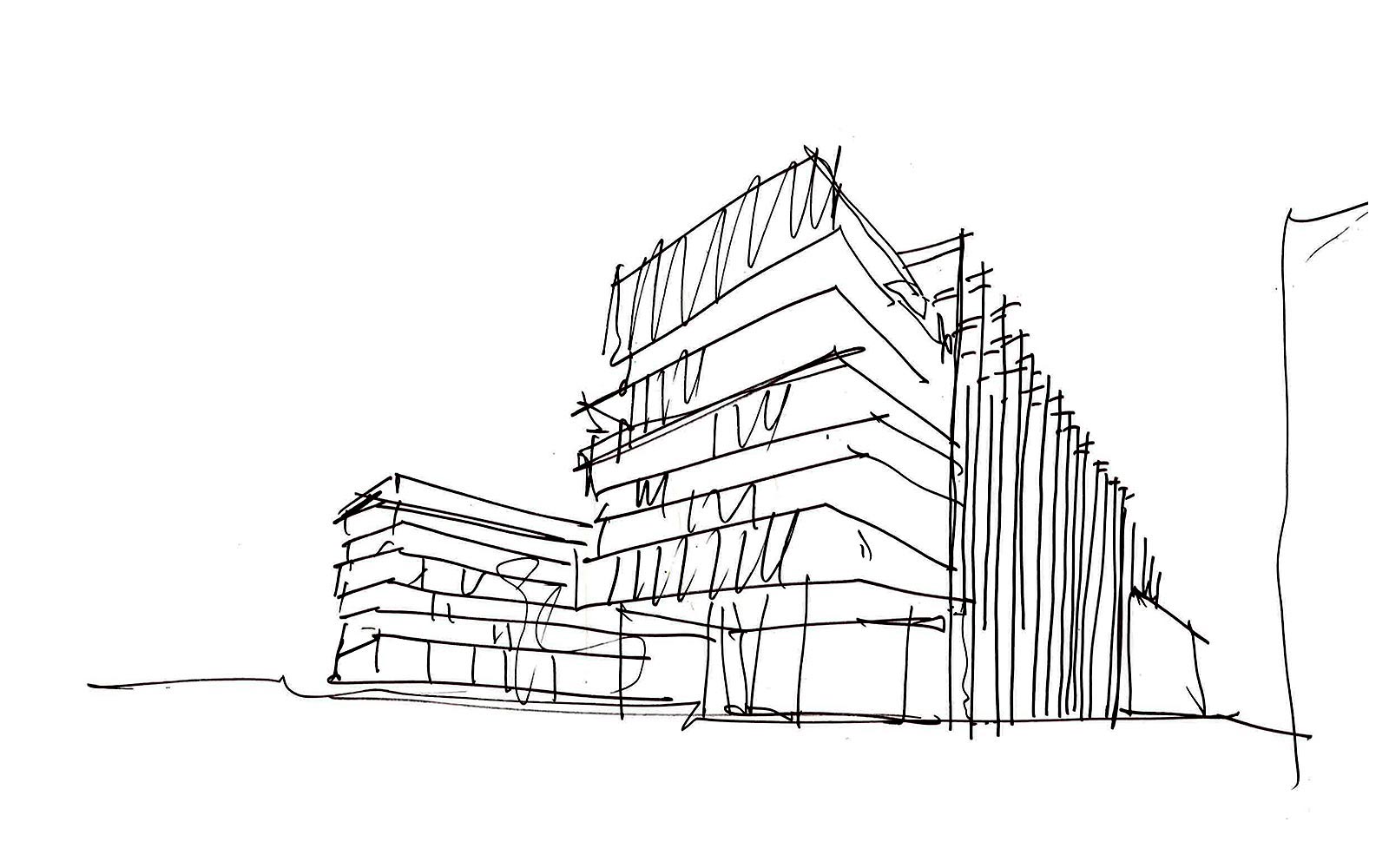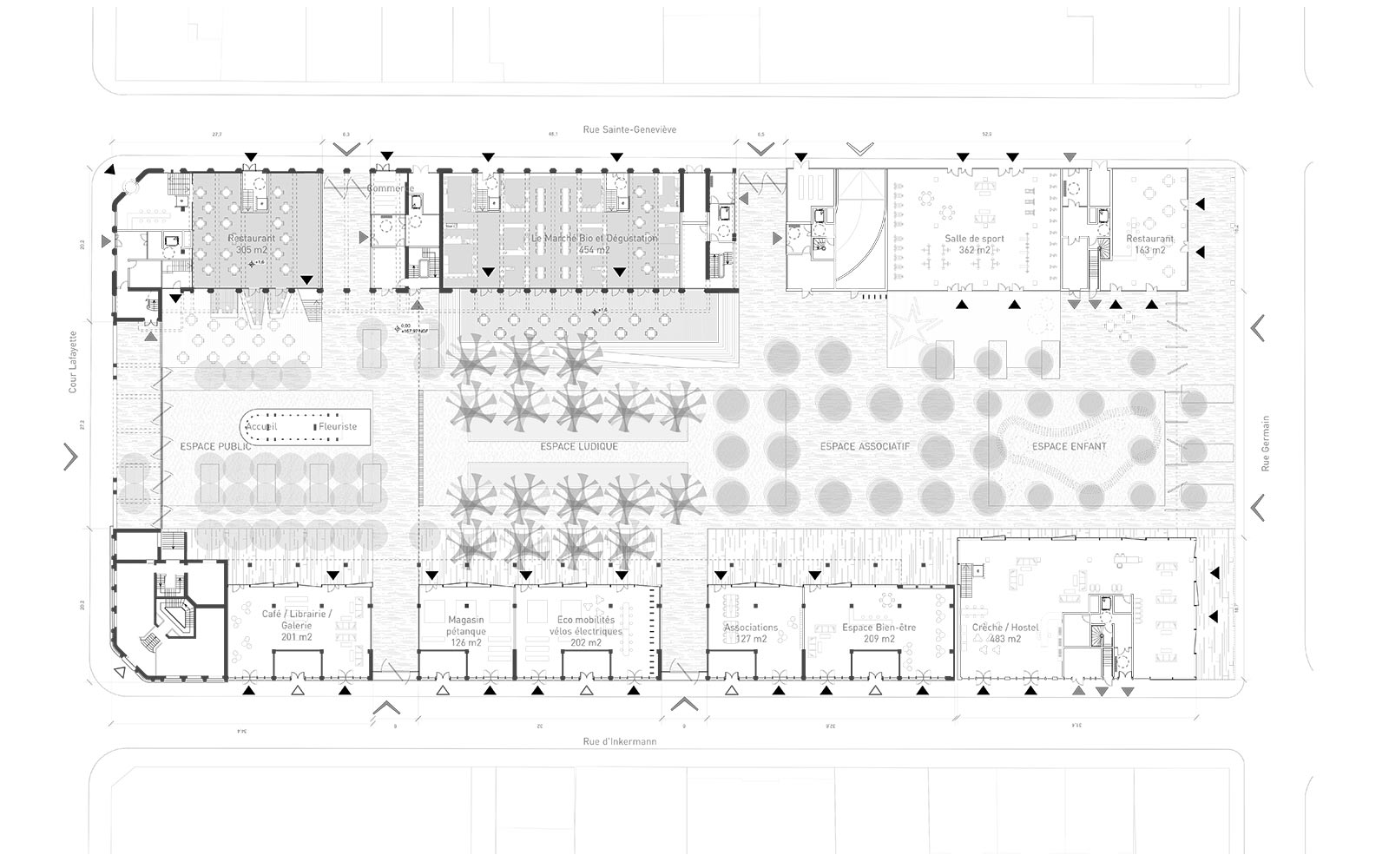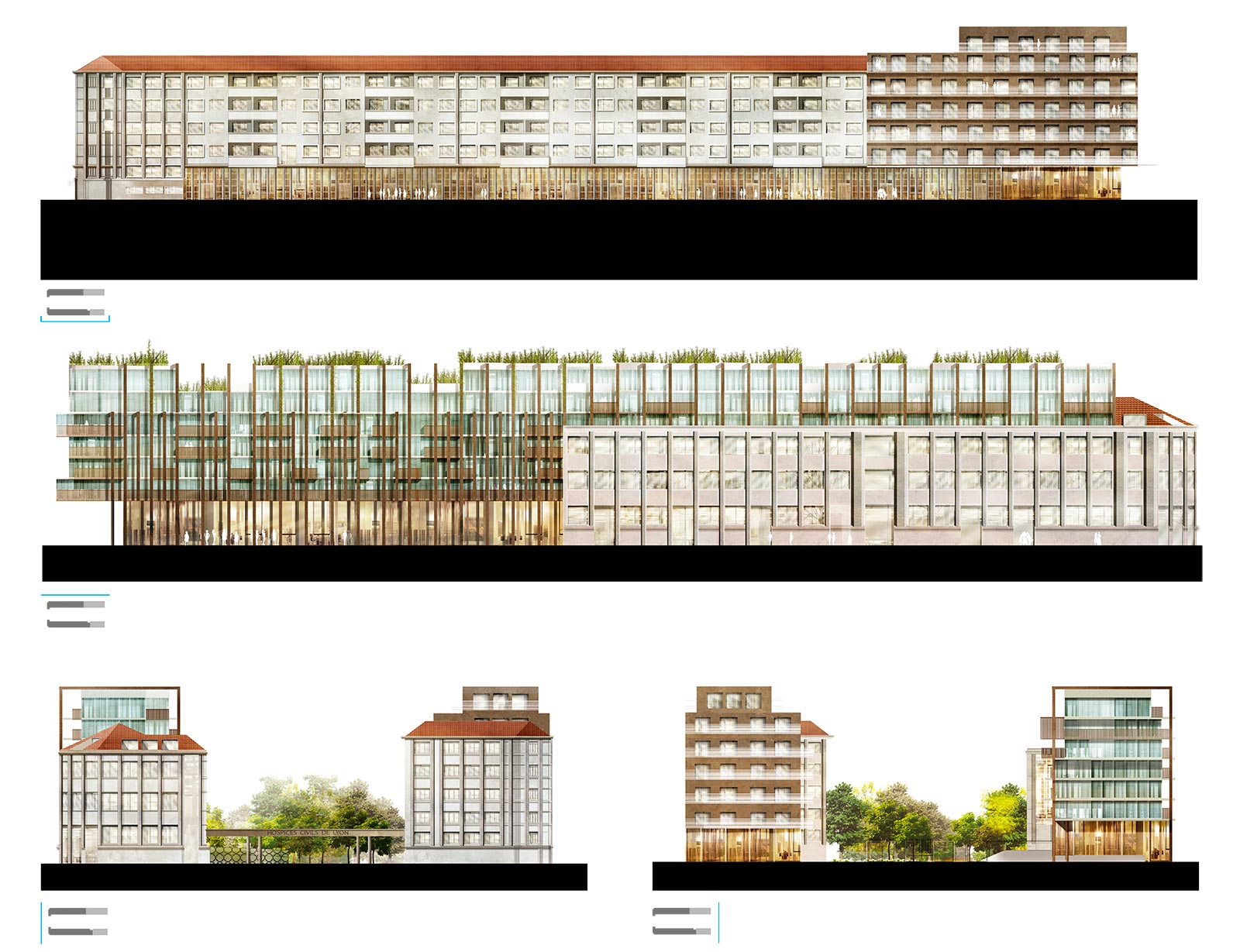 The Gardens of the Central Laundry – Redevelopment of the former central laundry of the Lyon Civil Hospices
Lyon, France
2015

total area: 14 571 m2
stores: 3 053 m2
apartments: 11 518 m2
client: Les Hospices Civils de Lyon
project: Alfonso Femia * with Quadriplus Groupe, Après La Pluie
structural engineering: Quadriplus Groupe
services and environmental engineering: Quadriplus Groupe
images: ©Atelier(s) Alfonso Femia & CC79
"The visible vertical structure both answer the issues of an extension of the existant and the question of the link between two elements from another era." AF
The site, located on the Lafayette Avenue, welcomes the former Central Laundry of the Lyon Civil Hospices. It belongs to Bellecombe's neighbourhood in the 6th district of Lyon; at the limit of Villeurbanne city. The Lafayette Avenue separates the site from the 3rd district.
Its position places the site like a future center of gravity for the neighbourhood. Surrounded by four streets, only the Lafayette Avenue is considered as a main road.
The existing project is characterized by the position of two strips built by following a south/north axis along the Inkermann Street and the Sainte-Geneviève Street. These strips give structure to these streets and act also as a "rampart" because of their functions and their architecture.
To clear all the potential of the site, the removal of some parts has been determining. Indeed, the space saving that it created favoured a more solid basis of reflection to settle the future project in its environment.
The important heights of the Laundry levels must be taken in account to choose the function to be integrated there: thus, the corner at the Lafayette Avenue and the Sainte-Geneviève Street proves to be a judicious place for the creation of atypical housing. The ground-floors are dedicated to some shops that will animate the base. The control room will be the reception element of the site.
Once the space is clear, we densify in continuity with the existant, we develop a program in relation with the needs of the neighbourhood ; a dialog between the new-build and the old properties begins. Two new buildings are developed with five floors+attic. The retail space continues on the ground-floor and upper floors are dedicated to housing. The Germain street becomes a real animated space and makes appear active solids and voids. It becomes one the main accesses of the site.
The top floors show the dichotomy established between a smooth urban façade and a more domestic built façade that is fragmented and turned to the heart of the block. On the Central Laundry's side, these volumes come overhanging the existant and aim to bring the eras closer and put the whole project in contemporaneity.
The visible vertical structure both answer the issues of an extension of the existant and the question of the link between two elements from another era. The structure and the façade work are linked and come to continue the rhythm of the existing building of the Central Laundry.
From a base initially really closed, we achieve to give back some transparency and a link to the heart of the block and the streets. These crossings are used by the public to access to the housing and the shops; thus they let a real opening of the central space on the surrounding urban landscape.
During the evening, the use of these crossings are yet regulated and the heart of the block becomes private again.

• PROJECT VIDEOS:
> Les Jardins de la Blanc – Transformation of some areas of the hospital in Lyon