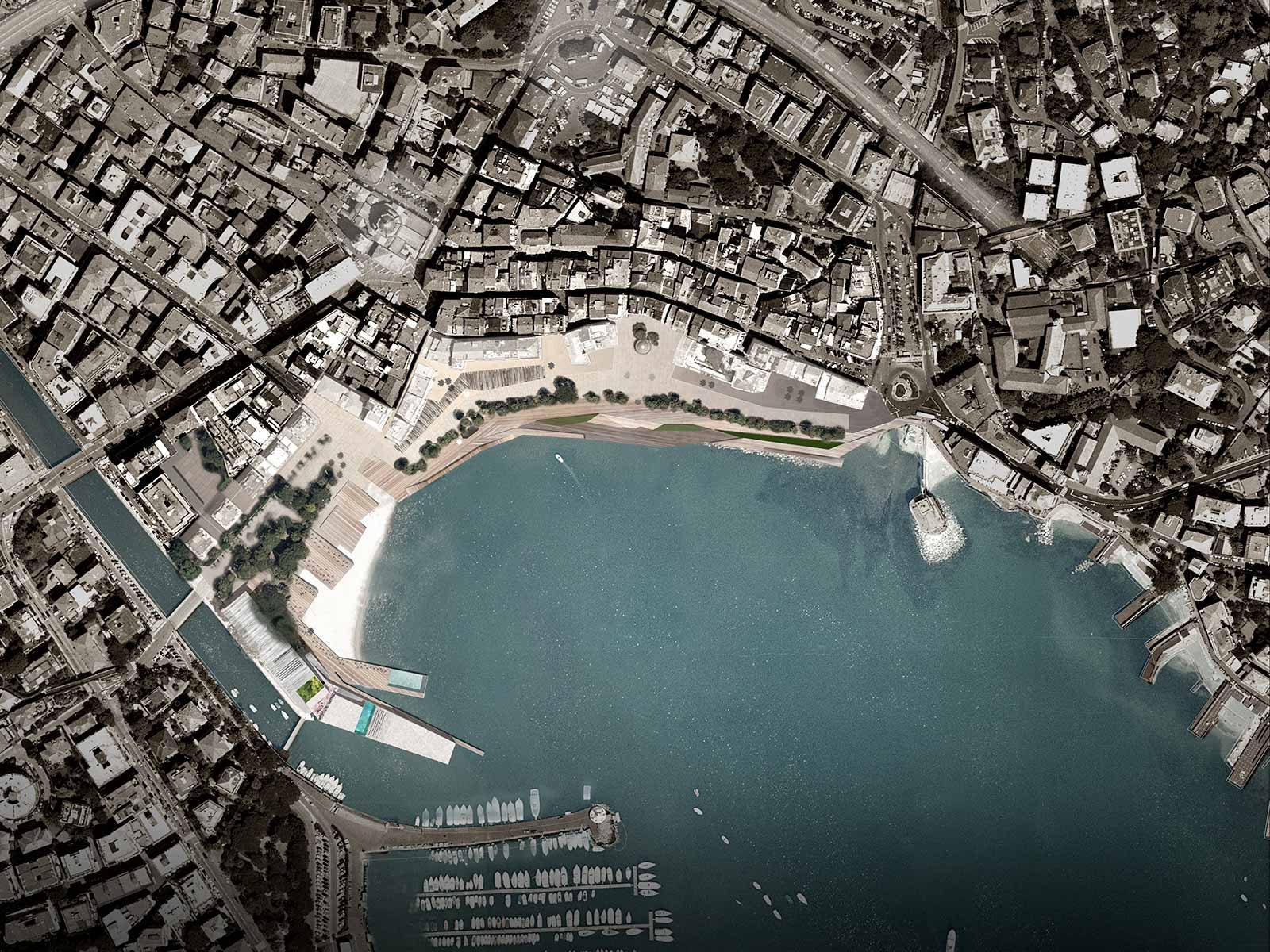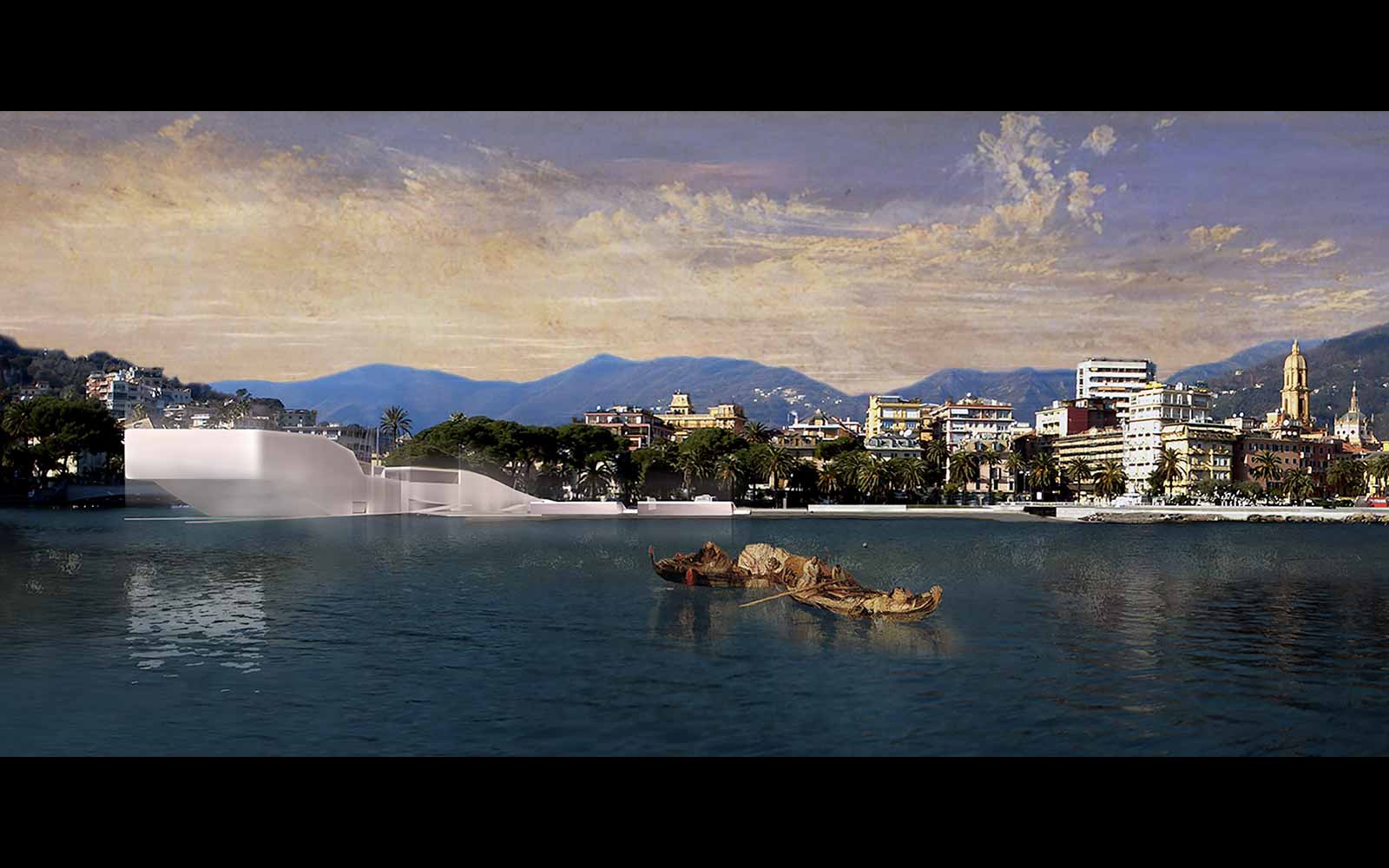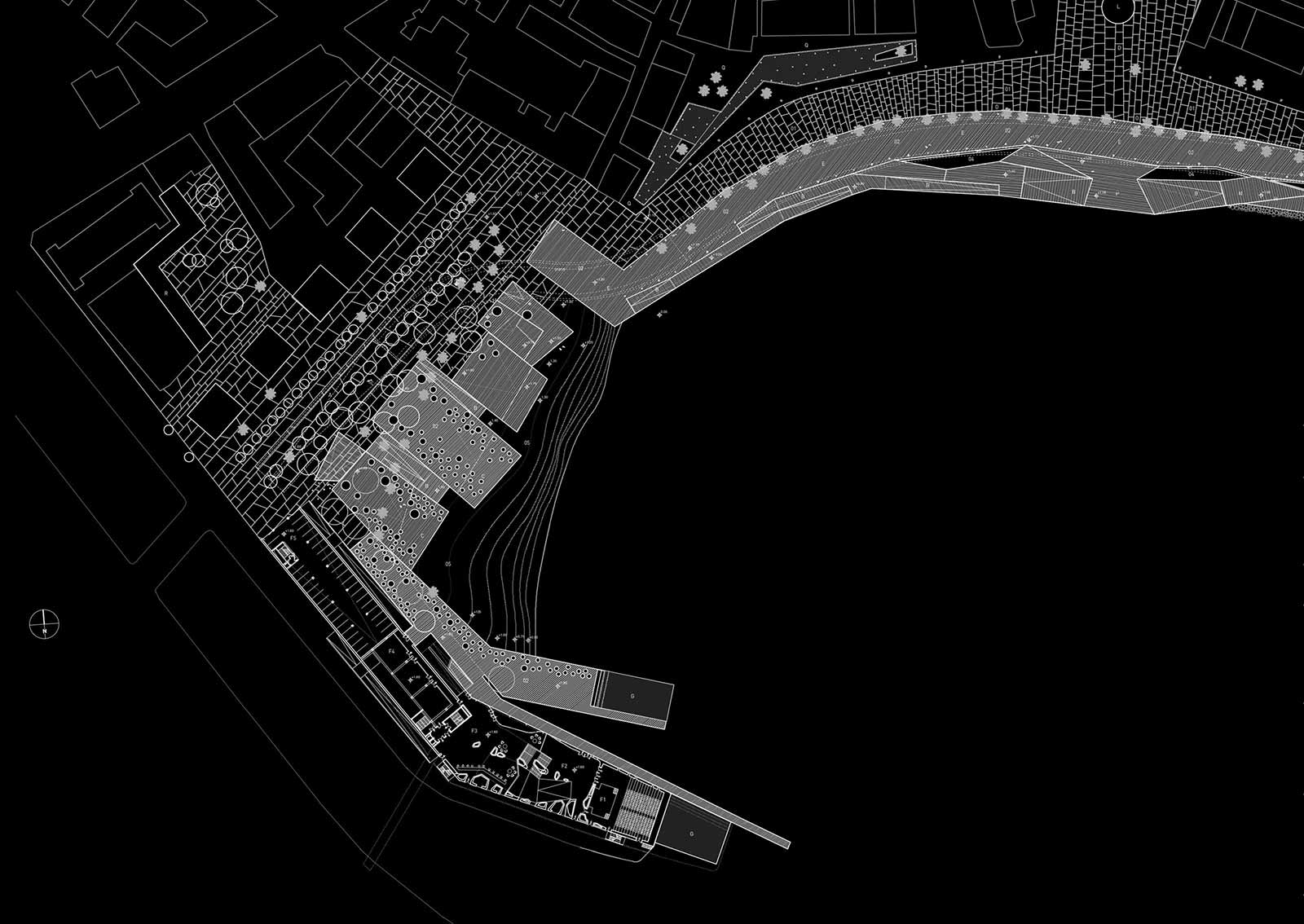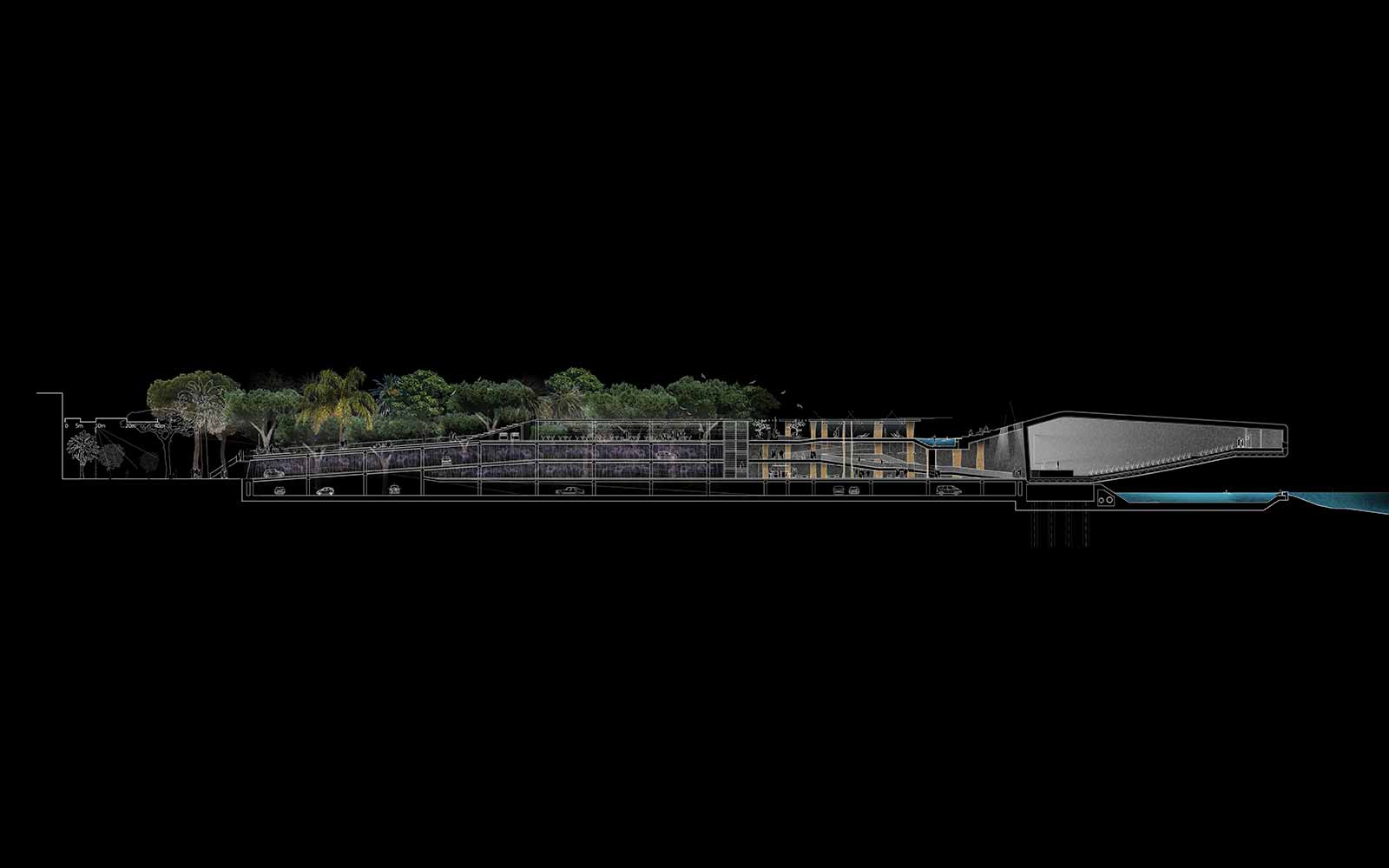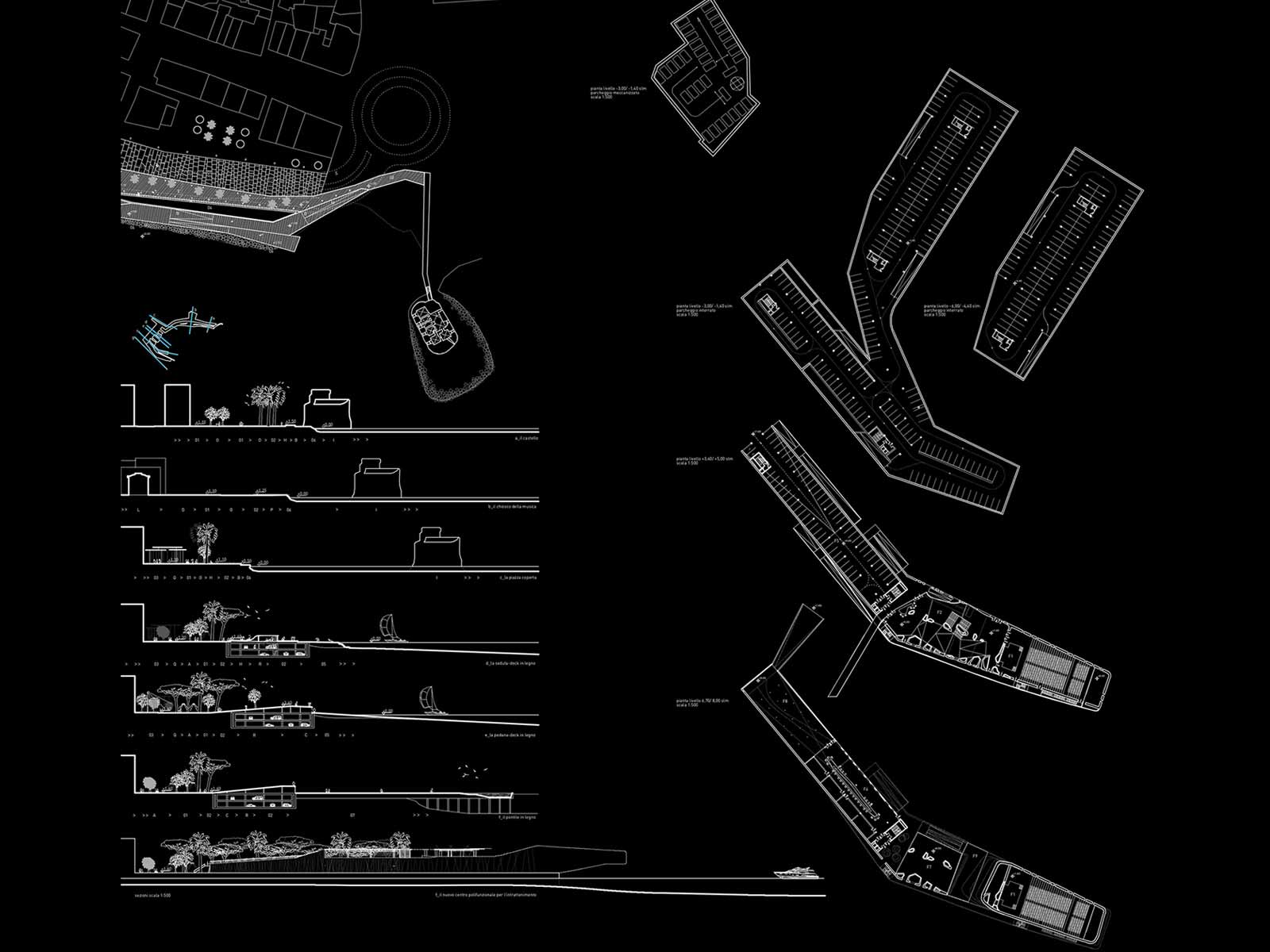 New Water Front
Rapallo-Genoa, Italy
2006

program: New Watrefront of Rapallo and multipurpose building
> total area: 49 266 m2
> south seaside promenade: 7 446 m2
> north seaside promenade: 7 327 m2
> "eupalino" hybrid building, kunsthalle: 17 300 m2
> underground parking, sea park, beach: 9 206 m2
> underground parking, commercial square: 1 987 m2
client: Comune di Rapallo
project: Alfonso Femia * with Franz Prati, Pierluigi Feltri, Riccardo Miselli, Simonetta Cenci, Sara Traverso, Ori&Arienti
structural engineering: Ms Ingegneria–Stefano Migliaro
services engineering: Marco Taccini
images: Atelier(s) Alfonso Femia
"This social public-private building, this "Kunsthalle", this "white thing" (la "chose blanche" by P.Valery), belongs to the place.
It belongs to the place because the place is designing, locating, defining it. Such as the elements that can be found by the seaside, which, after years of erosion, caresses and violence of the sea, are losing their original shape, and are taking one of their own, belonging to the time and to the sea, to the place where they are laying." AF
Fedro: "Did you find it there?" Socrates: "Just there, I found one of those things cast up by the sea, a white thing, snow-white. Clean, hard, sweet, light, glittering in the sun, on the smooth sand, it was obscure and strewn with sparks; I took it, I blow it, I rubbed it against my mantle and its unusual shape stopped all my thoughts. Who made thee? I wondered. Different from any other thing, yet not shapeless; are you a freak of nature, nameless thing, sent by the gods and come to me among the rubbish rejected by the sea last night?" Fedro:
"Of which material?" Socrates: "Of the same material of its shape: incertitude. Maybe it was the bone of a fish oddly worn out by the sand; or ivory cut by an overseas artisan, for a reason I can't grasp… Who knows? May be it was only the fruit of an infinite time…"
(Paul Valéry. Eupalinos, 1921 – free translation)
The first elements taken into consideration are the extraordinary and qualitative characteristics offered by the place: the green, the relation with the sea, the history, the urban structure, the hotel system. The strategic and creative solution, aiming at a poetic reaction, proposing itself in front of those starting elements together with the targets to achieve, is therefore a solution identifying an intervention for subsequent Phases, looking through the invention of a symbolic building that is deep-rooted to the place, a "Kunsthalle" containing a conference centre, flexible exhibition areas, a car park, swimming-pools and a sea resort, restaurants and spa resorts, the first foundation step. A decisive and inalienable step. It is a proof of identity. This social public-private building, this "Kunsthalle", this "white thing" (la "chose blanche" by P.Valery), belongs to the place.
It belongs to the place because the place is designing, locating, defining it. Such as the elements that can be found by the seaside, which, after years of erosion, caresses and violence of the sea, are losing their original shape, and are taking one of their own, belonging to the time and to the sea, to the place where they are laying.